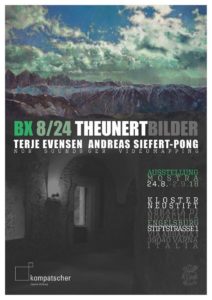 One year after the successful exhibition in the Gallery Hofburg Brixen, a new project by the German painter Holger Theunert and his gallery owner Jakob Kompatscher will follow on 24 August 2018.
On the occasion of the presentation of the portrait of the abbot of Kloster Neustift in Vahrn, an exhibition will take place there in the beautiful Castel Sant'Angelo at Neustift.

An event like this has not yet existed there, as Theunert is supported by the Karlsruhe media artist Andreas Siefert (PONG) and the Norwegian musician Terje Evensen.

Siefert and PONG are the inventors of the" Karlsruher Schlosslichtspiele", Evensen is a member among others at Spin Marvel – an English Norwegian Jazz Super Group (featuring John Paul Jones, Nils Petter Molvǽr).
Especially for the Castel Sant'Angelo a music is composed and a sound installation is created – Theunert's pictures are taken up by the video mapping Andreas Sieferts and form a new level.
We look forward to every visitor and wish an exciting experience.
Exhibition: 24.08.-02.09.18