Hans Rabanser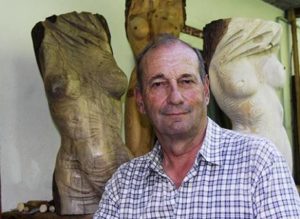 "Sublimated eroticism"
My name is Hans Rabanser and I was born in 1948 in Ortisei in Val Gardena.
After attending an art school, I learned the profession of sculptor and practiced my profession for some years in recognized workshops. Later the commissioned works of the sculpture no longer corresponded to my "understanding of art" and so I interrupted my work.
However, the art of wood never completely let me go, so in later years I realized my "wooden fantasies" and began carving my torsi's.
My sculptures emerge spontaneously and are shaped differently from each log, depending on how the tree is grown and shaped. I work the wood very intensively and as long as from the respective hard and coarse wood, fine women's and Männerertorsi's arise. My sculptures reflect a certain eroticism and invite the art lovers to contemplate. The Torsi's should "seduce" the viewer and he should not be afraid to touch the artwork and slide his hands along the forms.
He will not only see, but also feel that the untreated original bark of the log, forms an interesting contrast and so every torso receives an individual charisma.
As wood species I use nut, apple, cherry, ash, maple, chestnut, pine, and olive wood.